Graduate Energy Poverty Fellows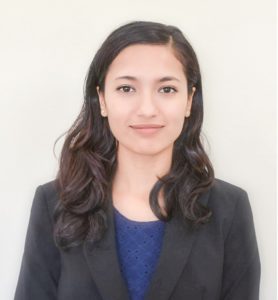 Prabisha Shrestha is a PhD student in the Department of Geography at UNC-Chapel Hill. In her doctoral research, she plans to use geospatial research methods to explore patterns of forest resources use under community forestry program in rural Nepal and investigate impacts of indoor air pollution from using fuelwood for cooking on women's health. She holds a B.S. in Environmental Science (major) and Public Health (minor) from the Asian University for Women in Chittagong, Bangladesh and a M.S. in Forestry, with specialization in hydrology, from the Southern Illinois University Carbondale. Before starting her PhD, she worked in two research positions investigating natural resources use patterns and assessing impacts of anthropogenic activities ranging from surface coal mining in Eastern Kentucky to military training in Fort Leonard Wood, Missouri.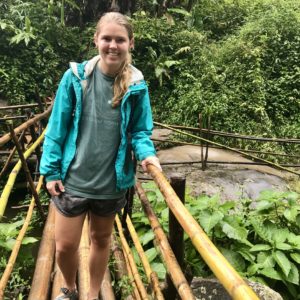 Logan Richardson is a PhD student in the Department of Forestry and Environmental Resources at North Carolina State University. In 2018, she graduated from Furman University with degrees in Economics and Sustainability Science. During her undergraduate career, Logan helped to evaluate the progress of her campus becoming carbon neutral by producing annual greenhouse gas reports. She also conducted research focused on creating a framework to measure the sustainability level of Croatia by analyzing social and biophysical indicators. At NC State, Logan is a Graduate Energy Poverty Fellow and completes coursework focused on environmental economics and geospatial analysis. Logan is interested in understanding the joint economic and environmental implications of energy-related poverty.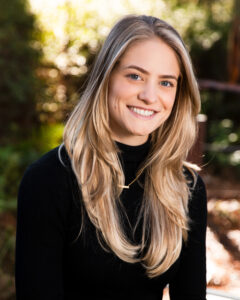 Kate Brandt is a doctoral student in the Department of Geography and predoctoral trainee at the Carolina Population Center at the University of North Carolina at Chapel Hill. She graduated from Rutgers University in 2018 with degrees in Geography and Environmental Planning and Design. Her research investigates the health impacts of fuel burning in energy poor households and the dynamics of land change and fuel choice in Malawi. Currently, Kate is the Project Manager for EPPSA.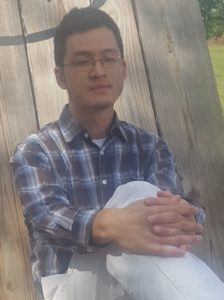 Daniel Han is a PhD student in the Department of Public Policy at the University of North Carolina at Chapel Hill. Originally from Kansas, he graduated from the University of Chicago in 2018 with a BA in Economics, a BA in Mathematics, and a Minor in Statistics. His current research interests relate to individual decision-making with regards to energy and environment-related issues, and how policies can tackle global climate change without overburdening those with the least resources.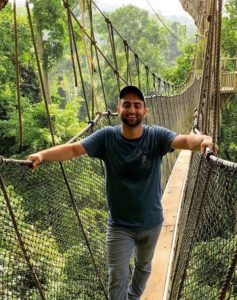 Cyrus Sinai is a Geography PhD student at UNC Chapel Hill. He graduated from UCLA in 2015, where he studied international development, geospatial information systems (GIS), and public health. As an undergraduate, he conducted research on the links between HIV prevalence and resource extraction industries in eastern Cameroon.  After graduating, Cyrus spent 3 years working in the Democratic Republic of the Congo (DRC) with the UCLA-DRC Health Research & Training Program, assisting the Congolese Ministry of Health with infectious disease surveillance and research. As a part of the EPPSA program, Cyrus is focused on exploring the impacts that health facility access to electricity and information communication technologies (ICT) has on infectious disease surveillance, prevention, and control efforts in sub-Saharan Africa.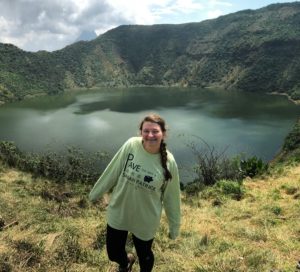 Stephanie Parsons is a Graduate Energy Poverty Fellow in her second year as a doctoral student in Civil Engineering at North Carolina State University. She graduated from Auburn University with a degree in Mechanical Engineering in 2018. During her undergraduate career, she was heavily involved in Auburn University's chapter of Engineers Without Borders, traveling to Bolivia and Rwanda to install potable water distribution systems. Stephanie is currently working on analysis of the personal air pollution exposure data that was collected during the baseline campaign for the Zambia Clean Cooking Study (ZCCS). Additionally, she is working on laboratory emissions measurements of one of ZCCS's intervention stove, the MimiMoto.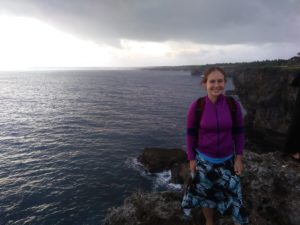 Emily Floess is a Graduate Energy Poverty Fellow entering her first year as a doctoral student in Civil Engineering at North Carolina State University. She got her Bachelor's degree in Chemical Engineering and Master's degree in Environmental Engineering from the University of Illinois, Urbana-Champaign. After her Bachelor's, Emily was a 5 year Peace Corps volunteer in Liberia, teaching math, science, and adult education. After the Peace Corps, she worked for a water treatment nonprofit in Liberia, which helped provide clean drinking water to hospitals, clinics and communities affected by the Ebola outbreak. While getting her master's degree at Illinois, she measured emissions from improved and traditional stoves in China and brick kilns in Colombia and Nepal, and measured household energy usage in Nepal and China. Her master's thesis project was developing a global solar resource map for a stored solar cooker. Her research interests are energy access and transitions in developing countries, and emissions from household energy sources.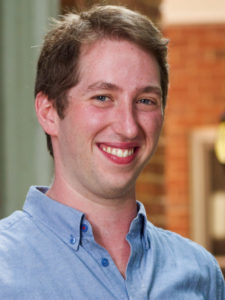 Mark Radin is a Ph.D. student at UNC-Chapel Hill at the Department of Environmental Science and Engineering. He received an MA in International Development at the Johns Hopkins School of Advanced International Studies and a BA in International Studies from Washington University in St. Louis. He joined the FUEL Lab in 2018 and has been working on numerous projects focused on energy poverty in Sub-Saharan Africa. He is interested in studying policies and interventions promoting environmental health, which includes water, sanitation, and clean cooking.
EPPSA Alumni
Dr. Yu Wu University of North Carolina at Chapel Hill (Post-Doctoral Research Associate, 2018-2021)
Ryan McCord (EPPSA Project Manager, 2018-2021)
Shannon Lloyd University of Michigan (M.S. Environmental Policy and Planning, Graduate Energy Poverty Fellow, 2021)
Dr. Averi Chakrabarti University of North Carolina at Chapel Hill (Dissertation Completion Fellow in Public Policy, 2018-2019)
Dr. Lauren Nareau University of North Carolina at Chapel Hill (Dissertation Completion Fellow in Anthropology, 2020-2o21)
Dr. Marwa Khoheji University of North Carolina at Chapel Hill (Dissertation Completion Fellow in Anthropology, 2021-2022)
Louise Lindegaard University of North Carolina at Chapel Hill (Undergraduate Energy Poverty Fellow, 2018-2019)
Valerie Lundeen University of North Carolina at Chapel Hill (Undergraduate Energy Poverty Fellow, 2019-2020)
Wesley Hayes North Carolina State University (Undergraduate Energy Poverty Fellow, 2019-2020)
Madeline Chandler University of North Carolina at Chapel Hill (Undergraduate Energy Poverty Fellow, 2020-2021)
Maggie Abbott (RTI International Intern)
Charlie Garnett University of North Carolina at Chapel Hill (RTI International Intern)
Rajah Saparapa University of Michigan (Graduate Energy Poverty Fellow)